All Smiles at the Lambay Whiskey HQ.
Since the inception of Lambay Whiskey (2018) our collection of Irish whiskey has accumulated several industry awards ranging from Gold at the World Whiskey Awards, Gold at the "Fifty Best", International Wine & Spirit Competition and many more. The year 2023 has started the same as previous years. We are delighted to announce Lambay Whiskey's Small Batch Blend and Irish Malt Whiskey Take Home Gold at the 2023 World Spirit Awards. 
Lambay Whiskey has once again proven its exceptional quality by taking home two gold medals at the 2023 World Spirit Awards. The brand's Small Batch Blend and Irish Malt Whiskey were both awarded gold in their respective categories, solidifying their place as some of the best whiskeys in the world.
The World Spirit Awards is one of the most prestigious competitions in the spirits industry, with a panel of expert judges evaluating each entry based on aroma, taste, and overall quality. Winning a gold medal in this competition is a significant achievement for any brand and Lambay Whiskey's recent wins are a testament to the brand's dedication to crafting exceptional whiskeys.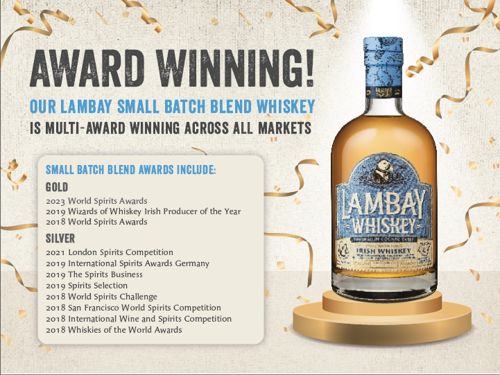 Gold Prize For Two of Our Top Sellers
Lambay Whiskey's Small Batch Blend is a unique blend of grain and malt whiskey, finished in French oak cognac casks. The resulting whiskey has a rich and complex flavour profile, with tastes of cracked almonds, pepper, and malt floral. The Irish Malt Whiskey, on the other hand, has been sourced from the finest independent Irish distilleries and exposed to the sea air of Lambay Island, before being aged in bourbon casks, resulting in an elegant finish consisting of lingering sweetness and a hint of spice.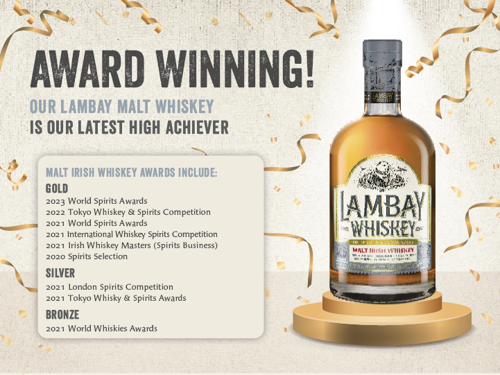 Both whiskeys have been highly praised by whiskey enthusiasts and experts alike, and their recent gold medal wins at the World Spirit Awards only serve to further validate their quality.
Lambay Whiskey is committed to producing high-quality whiskeys that showcase the unique terroir of Lambay Island, where the brand's whiskey is distilled and matured. The island's unique climate and geology contribute to the distinctive flavour profile of Lambay Whiskey, making it a truly one-of-a-kind spirit.
If you're a fan of premium whiskeys, don't miss out on our Small Batch Blend and Irish Malt Whiskey. These award-winning whiskeys are sure to impress even the most discerning whiskey connoisseur.
Interested in our award-winning whiskey? You can shop our full whiskey collection here.
Follow us on social media for all your latest Lambay Whiskey news.