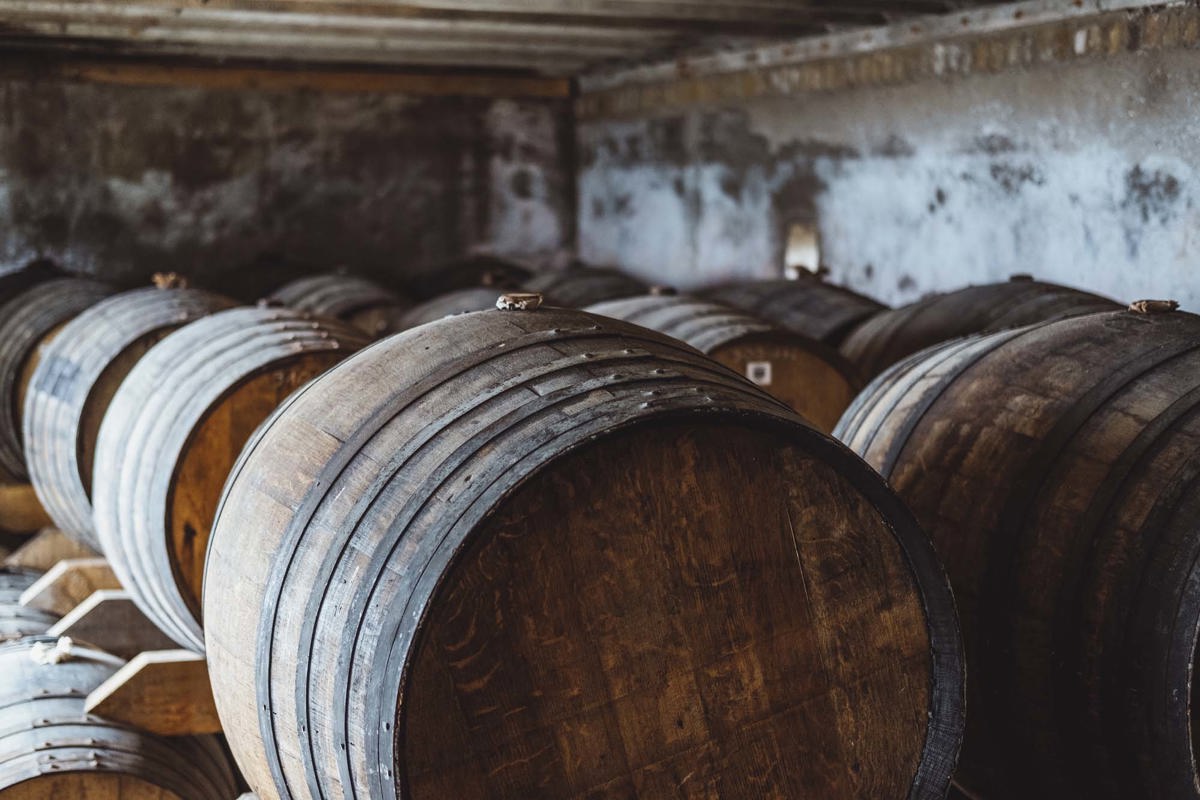 Appealing to whiskey lovers around the world, who wish to own a one-of-a-kind expression of our island-matured cognac-cask finished Lambay Single Malt whiskey.
The exact percentage of a whiskey's flavour which comes from maturing in the cask is debatable. Some say 50%, others as high as 75%. What is not more evident in truth, is that the choice of casks really matters.
We are fortunate here to have the finest Single Malt distillates maturing and aging in our French oak cognac casks on Lambay.
We are dedicated to giving you a high level of personalization and customer service with this unique maritime-influenced crafted product, for us, it is the knowledge that generations of whiskey the customer receives is an outstanding super premium crafted Irish whiskey that delivers an exceptional taste.
Our Maritime Enviroment
Lambay Island is located three miles from Irelands' capital city- Dublin, in the Irish Sea. It has its own unique micro-climate, always 1/2 degrees warmer than the mainland and gently situated along the easter gulf stream. An area of Europe known for its high salt density in sea spray particles and rich phytoplankton, the coastline of Ireland has statistically some of the highest levels of sea-salt in Europe and makes for very interesting finishing processes in whiskey making. Looking across at our neighbours in Islay and Scotland we too gain all the benefits of this rich sea micro-climate with our bonded maturation warehouse located on Lambay's western shoreline - perfect conditions for maritime maturation. French oak casks have a higher absorbency than American oak and since we began storing our casks we notice how sea-spray particles, iodine, brine, and the islands' natural botanicals infuse the wood as our Lambay Single Malt matures. Every cask is subject to its own individual concentrations and taste profile due to its position in the warehouse making each cask highly individual. Several seasons of environmental conditions have been absorbed into the wood as the casks lay sleeping here since the brand launched in 2018.
Cask Programme: What Is it?
Appealing to true whiskey lovers around the world, the Lambay Whiskey Cask Programme is an exclusive private cask offering of a one-of-a-kind expression of our island matured cognac-cask finished Lambay Single Malt whiskey. Our Cognac casks are carried across the sea from the world-renowned cellars of Maison Camus, France, and placed in our bonded warehouse to further finish on Lambay Island, Ireland. All cognac casks used in the finish of this whiskey have been hand-selected by LIWC Master Blender-Yonael Bernard of which only 20 casks in total have been selected for sale. Originating in la Nerolle in Cognac France, these French oak casks are rich in aromatic density and specially prepared to hold our triple-distilled single malt. It is rare in the world of Irish whiskey to have the opportunity to truly own a cognac-cask finished single malt of this quality. Our single malt is sourced from only the best independent Irish distilleries, triple distilled from Irish barley, and matured in bourbon barrels before we complete the finishing process using our unique maritime conditions. Each cask will vary in alcohol by volume from 45-58% abv. With limited volumes available this is an exceptional opportunity for whiskey collectors, with no standardization, and a high level of personalization and customer service, we are dedicated to ensuring that our customer receives an outstanding super premium crafted Irish whiskey that delivers an exceptional taste.
How do I buy?
Once we receive your registration of interest, we contact you for validation and share a proposal that includes offering three varied Single Malt Single Cask Strength samples from Lambay Island. Our Master Blender specifically offers three very different casks with diversity in aroma and taste to highlight the rich profiles we can offer.
Once you confirm your selection we immediately cease the maturation process, confirm transactional procedures and begin the process of production and delivery (bottling, labeling, and packing).
Please note this is not a cask program allowing continuous aging on Lambay Island, but rather an opportunity to bottle your own cask, and what you do with your collection is for you to decide! On average each cask delivers +/- 350 bottles.
Can I personalize my bottle purchase?
On each 70 cl bottle of our branded single malt single cask strength, we design a front and back label offering you the opportunity to add your brand logo/name.
While each bottle will have our branding, we offer a front label logo and back label messaging. For example " Exclusively bottle for…" and each bottle also bears the rare signature of our Cellar Master, Yonael Bernard as he hand-writes each bottle number in the batch bottling for the customer ie: Batch Nr. 01 | Bottle 1/400.
What does it cost ?
Each cask will have a variance in alcohol strength from 45-59% ABV, so too will each cask have a variance in age from 3-6 + years. This determines naturally the price and excise charged on the liquid.
Unusual in the world of cask ownership, we offer buyers a turn-key solution from aging, sampling, bottling and shipping, we average a rate of €55-€60 per bottle with an average of +/- 350 bottles per cask.
Other duties and VAT is charged to the customer.
Our Whiskey Range
Looking for something else? Review our Lambay Whiskey range
Our Whiskey