Lambay Whiskey is a brand that has been making waves in the world of Irish whiskey. However, do you know the history of Lambay Whiskey? In this blog post, we will explore the story behind this unique and fascinating whiskey brand.
Created in 2018
Lambay Whiskey is a relatively new brand that was launched in 2018. However, its history dates back much further than that. The brand is named after Lambay Island, a small island off the coast of Dublin, Ireland. The island has a long and fascinating history that dates to prehistoric times.
The island was first inhabited by monks in the 7th century, who built a monastery and established a community there. The island was later taken over by the Vikings, who used it as a base for their raids on the Irish coast. In the 16th century, the island was owned by the Talbot family, who built a castle on the island that still stands today. Lambay is a nature reserve home to a colony of red-neck wallabies, a herd of deer, seagulls, grey seals and puffins, and fauna that live together in perfect harmony.
Lambay is a nature reserve and place of intrigue and has long had an air of inaccessible mystery. When WB Yeats visited the island in the 1880s, he compared the experience to landing on a remote South Seas island for the first time.
Fast forward to the 20th century, and the island was owned by the Baring family, who were well-known for their love of horses. In 2015, the current owners of the island, the Baring Family met Mr Cyril Camus from the eponymous and well know cognac house and shared the same values in a life of love of nature, entrepreneurship and art de vivre.
Partnering with the Camus Family
To create their whiskey, the Barings partnered with the Camus family, a family-owned cognac house based in France. The two families worked together to create a whiskey that would be unique to Lambay Island. The whiskey is made using a blend of malted barley and grain whiskey, which is then aged in bourbon barrels and finished in cognac casks.
One of the unique aspects of Lambay Whiskey is the use of Trinity Well water, which is sourced from an underground well on the island. The water is said to have a unique mineral composition that adds to the flavour and character of the whiskey.
Lambay Whiskey is also unique in that it is finished in cognac casks. The cognac casks are sourced from the Camus family's own vineyards in the Cognac region of France. The casks are then shipped to Lambay Island, where they are filled with whiskey and left to mature for several months. The result is a whiskey that has a unique flavour profile, with hints of sweetness and spice.
Distillation Process
Irish whiskey is synonymous with triple distillation and Lambay Whiskey Small Batch Blend is produced using two forms of distillation process – Pot Still Distillation and Column Still Distillation. Each distillation helps to refine and collect the purest distillates resulting in a final spirit with a clean spicy flavour. The distillation process starts with "Pot Still Distillation" followed by "Column Still Distillation" which originated in Scotland to allow more efficient distillation of cheap whiskey. 
After the distillation process, we move onto the "Maturation" phase. Lambay Whiskey use first fills B1 (Bourbon Casks) to mature for a minimum of 4 years before being transferred to a Camus cognac cask. We do not usually name where the casks come from but if asked, they are sourced from the Kelvin Cooperage in Kentucky to our Distillery supplier. Kelvin Cooperage supplies bourbon barrels from renowned distilleries in Kentucky, some examples of barrels would be Jim Beam, Heaven Hill, Wild Turkey, Four Roses and Maker's Mark.
The cognac cask imparts a more intense complexity from the tannins but also more fruit from the residue of the cognac in the porous oak.
Lambay Whiskey Finish
Whisk(e)y must be matured in oak casks for a minimum of three years and is often matured much longer. 'Finishing' is an extension of the maturation process, when the spirit is subsequently filled into empty casks that previously held other wines or spirits for a further relatively short period at the end of maturation. 
The casks used for Lambay Whiskey are French oak cognac casks (usually from 300 – 400 litres) that have been drained of any liquid prior to their use and allowed to rest for a period under the watchful eye of our Master Blender Yonael Bernard. The result from this wood interaction over time imparts the unique cognac cask finish to our whiskey.
Globally, Yonael Bernard advises that, instead of speaking about time, we should speak about the quality of the cognac. It was selected for its richness and complexity. A blend of different qualities of Cognac from Camus: Old and Young; with rancio, dry fruits but also flowery and fruity. Rich enough and selected for a perfect match with our Irish whiskey.
What Barrels are Used to Mature Lambay Whiskey?
Lambay Whiskey focuses more on the art of blending and maturation than ageing. This influence is pioneered through the 5 generations of knowledge and expertise from the revered cognac House, Camus.
Our Master Blender – Yonael Bernard, ensures that every cognac cask is selected for its maturation quality and to obtain a perfect finish in those casks. He also carefully likes the finest whiskey that is produced and masters the blend from start to finish.
We are using quite old and high-quality ex-cognac casks, that deliver good fruitiness and intense concentration. The biggest compliment for us is the quality of cognac casks we can use that complement the craft quality of our whiskey. To create the perfect balance between the taste of cereals (grain) from the whiskey and the taste of grapes (fruit) from our cognac.
The combination of the ancestral know-how of distilling in Ireland and the expertise of Maison Camus in blending, maturation and finishing is what gives our products their uniqueness and specificity.
Award Winning Whiskey
Since our launch in 2018, Lambay Whiskey has won our fair share of industry whiskey awards. Our unusual whiskey has won numerous awards ranging from double gold in the "Wizards of Whisky – Producer of the Year" award to scooping gold at the 2023 "World Spirit Awards". Winning industry-recognised awards helps provide Lambay Whiskey's exceptional quality and solidifies our place as offering some of the world's best whiskey.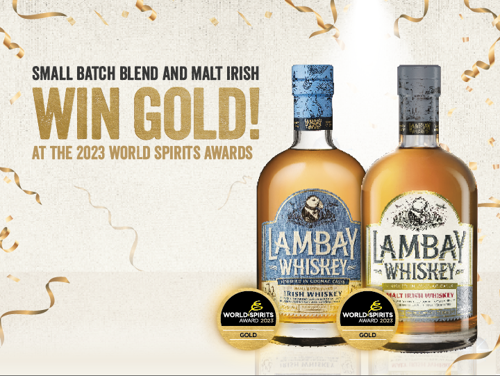 The brand is inspired by the unique terroir of Lambay Island, and its whiskey is made using a blend of malted barley and grain whiskey that is aged in bourbon barrels and finished in cognac casks which have been carefully selected by our Maitre de Chai to have a perfect blending/marrying process between the golden liquid and the cognac cask. Spring water from Lambay Island's Trinity Well is used at the bottling stage for the final touches, meaning customers will discover the real taste of Lambay Island. With its unique flavour profile and fascinating history, Lambay Whiskey is a brand that is sure to continue to make waves in the world of Irish whiskey.
Interested in our award-winning whiskey? You can shop our full whiskey collection here.
Follow us on social media for all your latest Lambay Whiskey news.