The Lambay Single Malt Castle Prestige Edition 20 Years Old is a delicately sourced 18-year-old whiskey aged in a bourbon cask. It is then transferred to a French oak cognac cask and watchfully matured for 2 years on in Camus cognac casks where for a time were exposed to the sea air on Lambay Island inside our bonded warehouse, called the Sea Cask Room.
All Camus casks when they arrive to our shores carry a historic tradition. A red wax seal (seen above) is attached to the bunghole of each cask, this bears the Camus family crest, intended to guarantee a certain quality of cask, and assures that the casks will not be opened from their departure from Cognac to their final destination to our Sea Cask Room on Lambay. These casks are used for our signature cognac-cask finish, and we are proud to have a small slice of its history bearing the seal of this great cognac house that dates back to 1863.
But why finish the whiskey in cognac casks and why endeavor to mature it on Lambay island under the expert eye of our Master Blender Yonael Bernard? Let's split this into two questions.
Firstly, why Cognac Casks?
Put simply, it's the flavour. Cognac is one of the richest French Eaux-de-vie and the aromatic French oak cognac casks that Lambay Whiskey matures in, are renowned for their quality and taste. The combination of both contributes to a very elegant, rich, fruity, subtly woody, toasted taste with a hint of spice.
Secondly, why Lambay Island?
A jewel just three miles off the east coast of Ireland, acquired by the Baring family in 1904 where tradition meets nature, Lambay Island is the spiritual home of Lambay Irish Whiskey.
Lambay Island is a one-of-a-kind, romantic hidden island paradise. Complete with a beautiful Castle and grounds designed by the famous Edwin Lutyens and located just three miles from the coast of Dublin. A sanctuary to unique and flourishing wildlife such as a troupe of wallabies as well as puffins and sea birds, Lambay island exudes the spirit of exploration, devilment, and rarity that has been poured into every drop of Lambay Whiskey.
The idyllic island also hosts Lambay Irish Whiskey's bonded warehouse, The Sea Cask Room. This allows the whiskey to undergo its unique maritime maturation process, having some of the highest concentrations of sea salt in Ireland due to its idyllic location, size of the island, and purity of the air due to lack of human interaction. Giving the perfectly crafted positioned casks the opportunity to absorb the rich microclimate of the maritime winds and sea pollens on Lambay. Finally, water from the Island's own volcanic spring, Trinity Well, is used in the final flourish at bottling stage, truly marking the unique flavour profile of Lambay Irish Whiskey.
To learn more about Cognac visit here.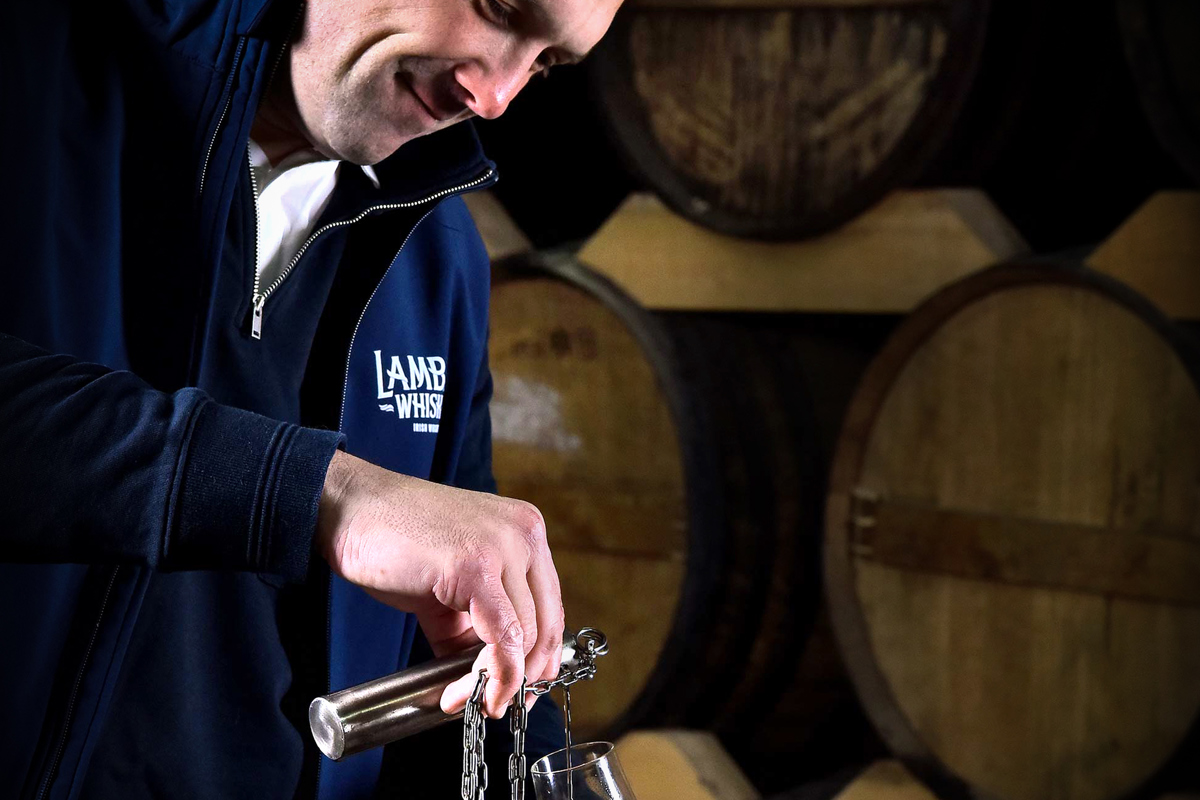 "Combined with our process, absorbing the finest elements of our pure maritime climate, and careful as not to over-saturate this fragile liquid with too much saltiness from the sea air, the art of our maturation ensures that the cask does not overpower the spirit but rather gently enhance it, acquiring a finesse in the final balance and taste." - Master Blender Yonael Bernard.
Expect flavours of apricot, cinnamon, pear, and vanilla on your journey through the 20-Year-Old Castle Prestige Edition. Lambay Irish Whiskey has crafted every aspect of the Castle Prestige Edition to reflect the unique, surprising, and complex spirit of where the whiskey is matured.
For more information on the Lambay Single Malt Castle Prestige Edition 20 Years Old visit us here: https://lambaywhiskey.com/unlocktheuntold to grab your bottle